There are usually two types of leaders, those who are vocal and those who like to lead by example and then there's Chiefs Pro Bowl safety Eric Berry, who does both. Before each game, Berry is the one who rallies his teammates in a huddle for a pregame speech that lights a fire inside each player.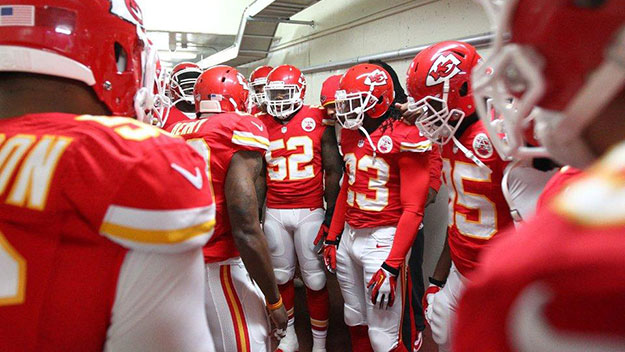 While Chiefs head coach Andy Reid said he is not a 'rah-rah' coach, he does appreciate the energy, passion and leadership Berry brings to each and every game, practice and workouts.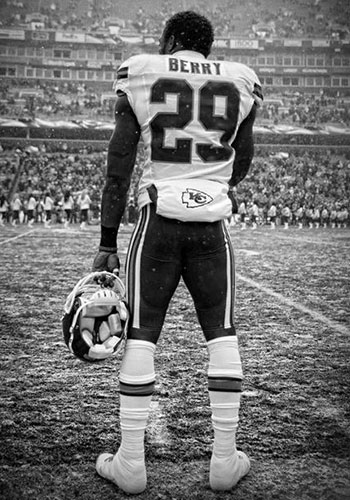 He kind of lives by If you want some, come get some,'" coach Reid said. "I mean, that's what he lives by; that's how h' handles practice. He's out there every day. He doesn't miss practice; he doesn't miss workouts. He's going to challenge every play. That's his mode. He doesn't care if it's practice; he doesn't care if it's a game. That's what he does and guys like that. I think, in a simple package, that's what he's all about?
After leading the pregame speech on Sunday, Berry went out and helped his defense record a team-total six sacks of Washington quarterbacks, marking the fourth time this season that the Chiefs recorded at least six sacks. In those four games, Kansas City won all four contests by a combined 123-35. Berry recorded a sack (-8.0 yards) of QB Robert Griffin III in the game, for a single-season career-high 3.5 sacks (-26.5 yards) this season and a total of 5.5-career sacks (-37.5 yards). The former Tennessee Volunteer also added five solo tackles, including one for a loss, and a QB pressure in Week 14 and has recorded 64-total tackles (58 solo, six assists) in 2013.
Berry said the Chiefs performance on Sunday was a byproduct of the time, energy and film study, put in by each player.
"We had a great practice," Berry said of Week 14. "Each day, we were just building, trying to get back on track. The big emphasis was offense, defense and special teams, each playing together and I think we did that."
When asked about the snowy conditions on game day, the Fairburn, Ga. native said it brought back childhood memories.
"It was kind of fun," Berry said. "It felt like we were out in the back yard, playing ball, like when we were younger, so, we just wanted to go out and have fun, have a good time."
The man in charge of the defense that prides itself on playing sound, attack-style football is Chiefs defensive coordinator Bob Sutton, who assessed Berry's play in 2013.
I think Eric's done a great job," coach Sutton said. "He's doing a lot of things, a lot of different jobs for us, from blitzing to covering to being deep; he's covered some of the better tight ends in the league and done a really good job. I think he's had a really good year. He's embraced the system and really tried to understand it. He has a lot of ability and has great speed and range. Any time you have that, like I always say, it's not just about making plays, a lot of times, it's preventing plays from happening and that's a big part of defense.?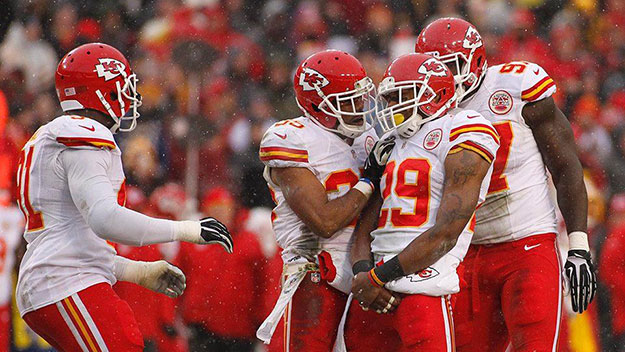 When Berry does make plays, like the QB sack of RG III on Sunday, he's lately been celebrating with a dance attributed to its creator, Chiefs Pro Bowl LB Justin Houston. Berry says the dance is a way of thanking both Houston and Tamba Hali for the pass-rush lessons each linebacker has provided him.
"It was cool," Berry said of the sack dance. "50 (Houston) and Tamba, they've been working with me on my pass-rushing moves, during practice; I've been trying to get as much knowledge about that from those guys and it's really been paying off. Those guys are helping me out a lot."
Berry has been making the most of the lessons taught by his coaches and teammates, which not only helps the Chiefs, but also puts smiles on the faces of his countless fans.
Through four weeks, KC Chiefs safety Eric Berry has continued to do exactly what he did to end last year: be the best safety in the […]
By: Reid Ferrin, KCChiefs.com Team's Pro Bowl safety excited about the Chiefs 2013 roster and the fans. While the Kansas City Chiefs are off […]