By: Reid Ferrin, KCChiefs.com
Team's Pro Bowl safety excited about the Chiefs 2013 roster and the fans.
While the Kansas City Chiefs are off today, they'll return to the practice fields at the University of Kansas Hospital Training Complex on Tuesday.
During the team's first two preseason games this season, Chiefs Pro Bowl safety Eric Berry had three tackles, while helping man the Chiefs secondary.
It's been an exciting camp for Berry, who was reunited with his childhood friend, Chiefs OLRokevious Watkins, signed by the team on August 3rd.
"A lot of people don't know," Berry said. "Him coming to the team, as much of a blessing as it is for him, it?s a blessing for me too. He pushes me through certain situations and certain things. We spend a lot of time talking and just going over different scenarios and stuff we've been through in our life the past few years and since we were growing up and just seeing where we came from. It's just cool to have him up here. I have my friends on the team, like Kendrick Lewis and Justin Houston, who I talk to and I consider those two brothers as well and just to have somebody that I grew up with as well, on the team, I think that helps me a lot too."
Watkins sees the reunion with Berry the very same way.
"He?s always good (to me)," Watkins said. "He?s been good to me since we?ve been growing up. He just continues to do what he?s always done, being nothing but good to me.?
Berry has taught Watkins a lot during the years and vice versa, but the most-recent lesson Berry taught him was specific to his new job with the Chiefs.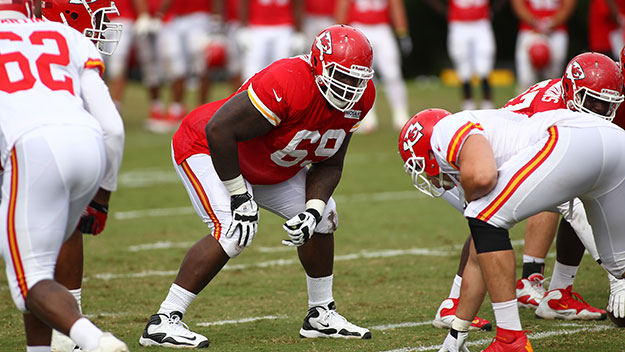 "The work ethic,? Watkins said. "Work ethic, period. It?s about being a football player, outside of practice and on the field; it?s doing everything right."
Berry, Watkins and the Chiefs are just five days removed from their time on the campus of Missouri Western State University in St. Joseph, Missouri. The team completed practices in front of passionate fans that waited for autographs. Berry was among many of the Chiefs players who took the time to inspire those waiting to meet their sports heroes.
Day after day, I watched as Berry would make his way down the fence line, signing shirts, posters and footballs, while also taking pictures with the awed fans. I lost count of the #29 Eric Berry jerseys worn by fans vying for his attention.
"Oh, man, it?s cool," Berry said. "It?s like one of the greatest feelings ever. Just the simple fact that they went out and spent their time; it?s more than just seeing them with my jersey, I feel like out of all the players that they felt like they could represent, not just on my team, but in the league, they chose my number. They had to take time to go pick out that jersey, spend money on that jersey, just so they could wear it and to me, that?s a great honor."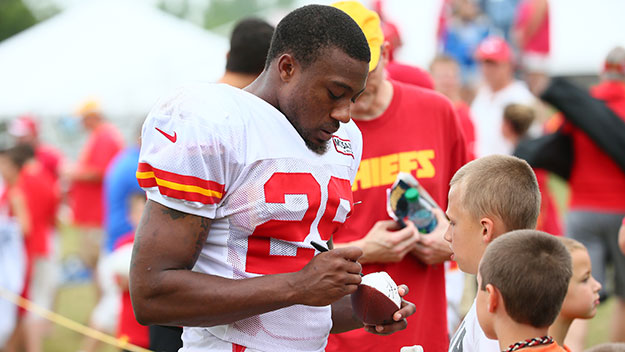 While signing autographs, fans would talk with Berry, while others would shout his name, trying to draw his attention.
"That?s cool, too,? Berry said. "That?s what makes you want to stand out there and sign those autographs and stuff like that; you never know whose day you?re impacting and you never know what those people are going through and just the simple fact that you go over there and spend time with them, talk and just have a good time. It?s just cool to see them smiling and having a good time."
What made the interactions between Berry and the fans more meaningful was the time that he spent with them, often times one of the last players on the field, making sure the fans didn't walk away empty-handed.
"Even though it's right after practice and guys are tired, I'd rather stay out there and sign and be tired than to tell them no," Berry said. "If I didn't have the time to, that's one thing, but if I have the time to, I'll always sign."
Berry and the Chiefs will once again be performing for their fans on Saturday night, when they travel to face the Pittsburgh Steelers at 6:30 PM CDT, their third preseason game of the year.